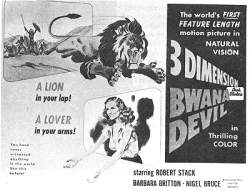 Es increíble constatar como el cine, al igual que otros medios, ha intentado siempre atraer auditorios a través de la innovación técnica (que no precisamente tiene que ir de la mano de la expresión artística o del mero entretenimiento). De hecho el cine, luego de que en sus comienzos intentara un simple retrato de la realidad común y corriente, fue poco después una innovación técnica que se pensó como adición del espectáculo vodevilesco o teatral. Convertido en un arte con autonomía e independencia, el cine ha estado lanzando todo tipo de artilugios tecnológicos para atraer más público: desde el sonido, el color, el panorámico, los efectos especiales y un sinfín de etcéteras, vistos en retrospectiva, algunos de estos adelantos son prácticamente indivisibles de la actual concepción del cine que tenemos (sonido, color), otros, en cambio, han pasado a mejor vida (Cinemascope). En el medio de estos dos grupos, tenemos un truco técnico que, si bien su auge ha pasado, eventualmente regresa como ardid publicitario en películas usualmente de género. Nos referimos al cine en 3D (tres dimensiones, una ilusión que proviene del truco de repartir entre la audiencia unos anteojos especiales, uno de cuyos lentes es de color azul y el otro de color rojo, con el cual el espectador experimenta la ilusión de ver cierto reborde en las formas de los actores y elementos que ve en la pantalla).
¿Cuándo fue la primera presentación de una película 3D? ¿eh? ¿HOUSE OF WAX (Museo de Cera-1953)? Nooooooo señor, nada de eso. El 10 de junio de 1915 se produjo la primera proyección de una película en 3D ante público particular; el lugar fue el Teatro Astor, de New York. Se dieron tres cortos, a saber:
1) Escenas rurales de los Estados Unidos.
2) Selección de escenas de JIM THE PENMAN (El Rey de la Estafa-1915), película de cinco rollos de la Famous Players, con John Mason y Margerite Leslie, dirigida por Hugh Ford y Edwin S. Porter.
3) Un documental sobre las cataratas del Niágara.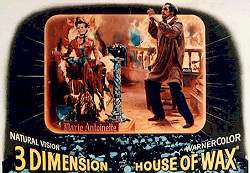 El proceso utilizado, desarrollado por el pionero del cine Edwin S. Porter y W.E. Waddell, consistía en el uso de dos lentes (rojo y verde), con el que creaban una imagen individual a través de dos proyecciones fotografiadas a una distancia de 2 y medio pulgadas de distancia. Sin embargo, el experimento estuvo destinado al fracaso, porque las imagenes se difuminaban bastante.
Años después, la Perfect Pictures presentó el primer largometraje en 3D, con una extensión de 4600 pies, POWER OF LOVE (El que Ella Quiere-1922), dirigido por Nat C. Deverich, un Drama con Elliott Sparling, Barbara Bedford y Noah Beery (padre), acerca de un capitán de navío en la California de 1840. Se estrenó en el Cine Ambassador Hotel, Los Angeles, el 27 de septiembre de 1922. El proceso utilizado había sido desarrollado por Harry K. Fairall. Ese mismo año, que pareció haber sido el boom del 3D durante el cine mudo, se estrenó la siguiente película norteamericana en tal proceso, que fue RADIO-MANIA (Radiomanía-1922), de R. William Neill, con Grant Mitchell como un inventor que logra hacer contacto con el planeta rojo Marte a través de un sistema de televisión. Margaret Irving y Gertrude Hillman acompañaron al joven Mitchell. La película fue producida por la W.W. Hodkinson y la Teleview Corp. Luego de estos dos títulos, los Estados Unidos tendrían que aguardar hasta el estreno de BWANA DEVIL (1952), para dejarse cautivar por la ilusión del 3D.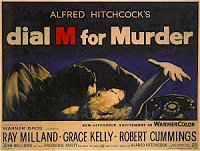 Contra lo que muchos piensan, la primer película sonora en 3D fue NOZZE VAGABONDE (1936), filme italiano de Guido Brignone, con Leda Gloria, Maurizio D'Ancora y Ermes Zacconi, distribuido por la Warner Bros. sucursal italiana y producido por la Società Italiana Stereocinematografica. El cameraman fue Anchise Brizzi. Más de diez años después llegó el primer largometraje en 3D, sonoro y en color, que fue ROBINZON KRUZO (1947), filme soviético de Aleksandr Andriyevsky para la Soyuzdetfilm, protagonizado por Pavel Kadochnikov como Crusoe y Y. Lyubimov en el rol de Viernes. La película, de 74 minutos, utilizó un proceso denominado Stereokino, obra de S.P. Ivanov, y requirió el uso de una pantalla de metal corrugado con muescas, diseñadas para reflejar las dos imágenes en forma separada hacia el ojo derecho e izquierdo. La escena más difícil de esta película tenía que ver con un gato montés, al que se tenía que persuadir de caminar a lo largo de una delgada rama en dirección a la cámara. Bueno, luego de cinco noches de intentos, el cameraman logró la toma tan preciada, y en las salas cinematográficas la impresión era como que el animal caminaba sobre las cabezas de los espectadores.
Ahora sí, luego de casi cuatro décadas de investigación, la Warner Bros. estrenó HOUSE OF WAX (Museo de Cera-1953), que fue sí el primer largometraje en 3D con sonido estereofónico. La primera proyección de la película tuvo lugar en el Paramount Theater, New York, y se utilizaron 25 parlantes (hecho que provocó cierta cacofonía, con sonidos rebotando en todas las direcciones). El director, André de Toth (recientemente fallecido), pudo haber notado ese problema con el sonido, pero jamás llegó a ver el efecto 3D, dado que tenía un solo ojo.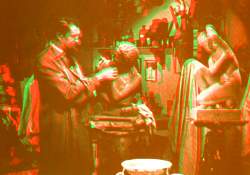 A partir de este momento se produjo el más grande boom del cine 3D (en realidad se había iniciado un año antes, con la citada BWANA DEVIL, producción de bajo presupuesto de Sidney Pink), que hizo que más de 5.000 salas cinematográficas en los EE.UU. se equiparan adecuadamente para exhibir este tipo de películas. Durante 1953 se estrenaron 27 películas en 3D, siendo seguidas por otras 16 al año siguiente. El ocaso de esta fiebre por el 3D se cerró en 1955, con una sola película con tal proceso. El resto del mundo hizo eco a esta moda, y Japón, Gran Bretaña, México, Alemania Occidental y Hong Kong produjeron sus propias películas en 3D.
Durante varios años este procedimiento quedó como un buen recuerdo, hasta que salió SEPTEMBER STORM (Un Septiembre Borrascoso-1960), dirigida por Byron Haskin, que fuera la primer película sonora en 3D exhibida en el fastuoso Cinemascope. A partir de esta hubo 54 películas más en tres dimensiones. En los últimos veinte años el proceso se reservó solo para el cine de terror, etapa en la cuál sigue transitando hoy en día.
Filmografía
AMITYVILLE 3D (El Pozo del Infierno)
DeLaurentis, 1983, Color, 105min
Dirección: Richard Fleischer, con: Meg Ryan
Horror
A*P*E (Gorila Contra Tiburón)
Independent, 1976, Color, 87min.
Dirección: Paul Leder
ARENA
MGM, 1953, Ansco color, 70min
Dirección: Richard Fleischer, con: Lee van Cleef
Western
BWANA DEVIL / SPEAR IN THE SAND
UA, 1952, Ansco color, 79min
Dirección: Arch Oboler, con: Robert Stack
Aventuras
CAT WOMEN ON THE MOON / ROCKET TO THE MOON (Mujeres Gatos de la Luna)
Astor, 1953, b/w, 64min
Dirección: Arthur Hilton, con: Sonny Tufts
CAVALLERIA RUSTICANA
Excelsa/Ponti/deLaurentis, 1953, Color, 84min
Dirección: Carmine Gallone, con: Anthony Quinn
Musical (opereta)
CEASE FIRE
Paramount, 1953, b/w, 75min
Dirección: Owen Crump, Música: Dimitri Tiomkin
Western
THE CHARGE AT FEATHER RIVER (La Carga Fatal)
Warner Brothers, 1953, WarnerColor, 95min
Dirección: Gordon Douglas, con: Vera Miles
Western
COMIN' AT YA! (Yendo Hacia Ti)
Filmways, 1981, Color, Dolby Stereo, 91min
Dirección: Ferdinando Baldi
Spaghetti-Western
CREATURE FROM THE BLACK LAGOON (El Monstruo de la Laguna Negra)
Universal-International, 1954, b/w, 79min
Dirección: Jack Arnold
Horror
DANGEROUS MISSION (Nieves Traidoras)
RKO, 1954, Technicolor, 75min
Dirección: Louis King, con: Victor Mature, Vincent Price
Policial
DEVIL'S CANYON (Infierno en el Desierto)
RKO, 1953, Technicolor, 92min
Dirección: Alfred Werker, con: Virginia Mayo
Western
DIAL M FOR MURDER (La Llamada Fatal)
Warner Brothers, 1954, WarnerColor, 105min
Dirección: Alfred Hitchcock, Música: Dimitri Tiomkin, con: Grace Kelly, Ray Milland
Suspenso
THE DIAMOND WIZARD (Agente Federal X-678)
UA, 1954, Color, 83min
Dirección: Dennis O'Keefe
Policial
DOMO ARIGATO
Sherpix, 1972, Color, 90min
Dirección: Arch Oboler
Drama
DRUMS OF TAHITI
Columbia, 1954, Technicolor, 73min
Dirección: William Castle
Drama
QIAN DAO WAN LI ZHU / MING DYNASTY
1976, Color, 94min
Dirección: Chang Mei Chun, con "Sonido cuadrofónico"
Kung Fu
THE BUBBLE
Oboler, 1966, Color, 91min
Dirección: Arch Oboler
Ciencia Ficción
ANDY WARHOLS FRANKENSTEIN / FLESH FOR FRANKENSTEIN (Carne para Frankenstein)
Bryanston, 1973, Color, 94min
Dirección: Paul Morissey, con: Udo Kier, Joe Dallesandro
Horror
FLIGHT TO TANGIER (Vuelo a Tánger)
Paramount, 1953, Technicolor, 90min
Dirección: Charles Marquis Warren, con: Jack Palance, Joan Fontaine
Policial
FORT TI (Ticonderoga)
Columbia, 1953, Technicolor, 73min
Dirección: William Castle
Western
THE FRENCH LINE (Línea Francesa)
RKO, 1954, Technicolor, 102min
Dirección: Lloyd Bacon, con: Jane Russell
Comedia
FRIDAY THE 13TH, PART 3 (Martes 13: Parte 3)
Independent, 1982, Color, 95,5min
Dirección: Steve Miner
Horror
IL PIÙ COMICO SPETTACOLO DEL MONDO
Paramount, 1954, Ferraniacolor, 80min
Dirección: Mario Mattoli, con: Toto
Italienischer ZirkuCiencia Ficciónilm
THE GLASS WEB (El Crimen de la Semana)
Universal-International, 1953, b/w, 81min
Dirección: Jack Arnold, con: Edward G. Robinson
Policial
GOG (El Monstruo de Cinco Manos)
UA, 1954, Color, 82min
Dirección: Herbert L. Strock
Ciencia Ficción
GORILLA AT LARGE (La Bestia Negra)
20th Cent.-Fox, 1954, Technicolor, 84min
Dirección: Harmon Jones, con: Cameron Mitchell, Anne Bancroft,
Lee J. Cobb, Raymond Burr, Lee Marvin
Intriga
GUN FURY (Hermanos Enemigos)
Columbia, 1953, Technicolor, 81min
Dirección: Raoul Walsh, con: Rock Hudson, Donna Reed, Lee Marvin
Western
HANNAH LEE
UA, 1954, Pathecolor, 78min
Dirección: John Freland
Drama
HONDO (Hondo)
Warner Bros., 1953, WarnerColor, 84min
Dirección: John Farrow, con: John Wayne, James Arness
Western
HOUSE OF WAX (Museo de Cera)
Warner Bros., 1953, WarnerColor, 6-Kanal-Stereoton, 90min
Dirección: Andre de Toth, con: Vincent Price, Charles Buchinsky (luego "Charles Bronson")
Horror
I, THE JURY (Yo, el Jurado)
UA, 1953, b/w, 87min
Dirección: Harry Essex
Policial
INFERNO (Huellas en el Infierno)
20th Cent.-Fox, 1953, Technicolor, 83min
Dirección: Roy Ward Baker
Policial
INVADERS FROM MARS (Los Invasores de Marte)
United Artists, 1953, Color, 81min
Dirección: William Cameron Menzies
Ciencia Ficción
IT CAME FROM OUTER SPACE (Llegaron de Otro Mundo)
Universal-International, 1953, b/w, 90min
Dirección: Jack Arnold
Ciencia Ficción
JAWS 3-D (Tiburón III)
Universal, 1983, Color, 98min
Dirección: Joe Alves, con: Dennis Quaid, Louis Gossett Jr.
Horror
JESSE JAMES VERSUS THE DALTONS (Jesse James Contra los Dalton)
Columbia, 1954, Technicolor, 65min
Dirección: William Castle
Western
KISS ME KATE (Bésame, Catalina)
MGM, 1953, AnscoColor, 109min
Dirección: George Sidney, con: Kathryn Grayson, Howard Keel, Bob Fosse
Musical
THE LITTLE MAGICIAN
Navodaya, 2002, color
Con: S. P. Balasubramanian y Suraj Balaji
LOUISIANA TERRITORY
RKO, 1953, Pathecolor, 65min
Dirección: Harry W. Smith
Aventuras
THE MAD MAGICIAN (La Máscara Siniestra)
Columbia, 1954, b/w, 72min
Dirección: John Brahm, con: Vincent Price
Horror
MAN IN THE DARK (El Hombre en las Tinieblas)
Columbia, 1953, b/w, 70min
Dirección: Lew Landers
Policial
LA MARCA DEL HOMBRE LOBO
1967, color, 95min
Dirección: Enrique L. Eguiluz - Con: Paul Naschy
Horror
THE MASK
Columbia, 1961, b/w, 83min
Dirección: Julian Roffman, mit teilweisen 3D-Sequenzen
Suspenso
THE MAZE (El Terror de la Torre)
Allied Artists, 1953, b/w, 81min
Dirección: William Cameron Menzies
Fantasía
METALSTORM - THE DESTRUCTION OF JARED-SYN (Metalstorm)
1983, Color, 84min
Dirección: Charles Band
Ciencia Ficción
MISS SADIE THOMPSON (La Mujer de Satanás)
Columbia, 1953, Technicolor, 90min
Dirección: Curtis Bernhardt, con: Rita Hayworth, Jose Ferrer, Charles Buchinsky (Bronson)
Musical
MONEY FROM HOME (La Suerte al Galope)
Paramount, 1954, Technicolor, 99min
Dirección: George Marshall, con: Jerry Lewis, Dean Martin
Comedia
THE MOONLIGHTER (Sombras Tenebrosas)
Warner Bros., 1953, b/w, 77min
Dirección: Roy Roland, con: Barbara Stanwyck, Fred McMurray
Western
MY DEAR KUTTICHATHAN
1986, color
Película india
THE NEBRASKAN
Columbia, 1953, Technicolor, 68min
Dirección: Fred F. Sears, con: Lee van Cleef
Western
CON LA MUERTE A LA ESPALDA
Balkazar/West u.a., 1967, Color, 68min
Dirección: Alfonso Balcazar, con: Jorge Martín, Vivi Bach, Klaus-Jürgen Wussow
Espionaje
PARASITE (Parásito)
Independent, 1982, Metrocolor, 85min
Dirección: Charles Band, con: Demi Moore
Horror
PHANTOM OF THE RUE MORGUE (El Fantasma de la Rue Morgue)
Warner Bros., 1954, WarnerColor, 83min
Dirección: Roy del Ruth, con: Karl Malden
Suspenso
REVENGE OF THE CREATURE (El Regreso del Monstruo)
Universal-International, 1955, b/w, 82min
Dirección: Jack Arnold
Ciencia Ficción
SHI SHAN NU NI / REVENGE OF THE SHOGUN WOMAN / 13 NUNS
Independent, 1977, Technicolor, 98min
Dirección: Mei Chung Chang
Artes Marciales

THE ROBE (El Manto Sagrado)
20th Cent.-Fox, 1953, Color, 133min - CINEMASCOPE
Dirección: Henry Coster, con: Richard Burton, Victor Mature, Jean Simmons, Michael Rennie
Epica
ROBINZON KRUZO (Robinson Crusoe)
1947, URSS
Con: Pavel Kadochnikov, Y. Lyubimov
Aventuras
ROBOT MONSTER (Robot Monster)
Astor, 1953, b/w, 63min
Dirección: Phil Tucker, Música: Elmer Bernstein
Con: George Nader
Ciencia Ficción
SANGAREE (Sangaree)
Paramount, 1953, Color, 95min
Dirección: Edward Ludwig
Drama
SECOND CHANCE (La Vida en un Hilo)
RKO, 1953, Technicolor, 82min
Dirección: Rudolph Mate, con: Robert Mitchum, Jack Palance
Drama
SEPTEMBER STORM (Un Septiembre Borrascoso)
20th Cent.-Fox, 1960, DeLuxe Color, 90min
Dirección: Byron Haskin
Aventuras
SON OF SINBAD (El Hijo de Sinbad)
RKO, 1954, Technicolor, 88min
Dirección: Ted Tetzslaff, Música: Victor Young
Con: Vincent Price, Dale Robertson
Fantasía
SPACEHUNTER: ADVENTURES IN THE FORBIDDEN ZONE (El Cazador del Espacio)
Columbia, 1983, Color, 90min
Dirección: Lamont Johnson
Música: Elmer Bernstein
Con: Peter Strauss, Michael Ironside, Molly Ringwald
Ciencia Ficción

THE STRANGER WORE A GUN (Lance de Honor)
Columbia, 1953, Technicolor, 83min
Dirección: Andre de Toth, con: Randolph Scott, Lee Marvin, Ernest Borgnine
Western
TIGERMAN
Independent, 1981, Color, 90min
Dirección: Matt Cimber
Artes Marciales
EL TESORO DE LAS CUATRO CORONAS / THE TREASURE OF THE FOUR CROWNS
Filmways, 1982, Color, 100min
Dirección: Ferdinando Baldi, Música: Ennio Morricone
Aventuras
TOP BANANA
USA, 1953, b/w
Dirección: Alfred E. Green
Con: Phil Silvers
Comedia
WINGS OF THE HAWK (Rebelión Redentora)
Universal-International, 1953, Technicolor, 80min
Dirección: Budd Boetticher, con: Van Heflin
Western